Outside School Hours Care with CAMP AUSTRALIA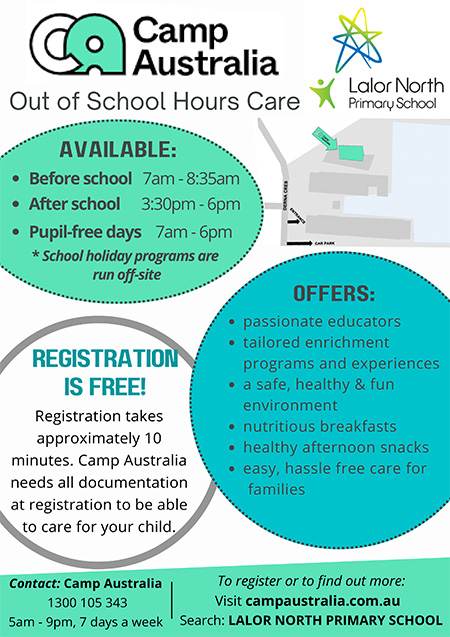 Welcome to the Lalor North Primary School – Before and After School Care Program.
We are proud to partner with Camp Australia to provide our Outside School Hours Care Program.
The Program aims to provide your child/ren with a care and education program of the highest possible standard in a safe, secure, nurturing and stimulating environment. The program offers a wide variety of experiences that are planned and implemented in a friendly and relaxed environment, which accounts for children's social, emotional, intellectual, language, physical and creative needs. The Before and After School Care program endeavours to complement the school's activities and be consistent with the school's policies and practices.
The Camp Australia OSHC is a licensed children's service with the State Government and is required to adhere to National legislation, regulations, and quality standards. Staff are qualified and experienced in caring for and educating primary school age children.
Before School Care
The Before School Care Program operates from 7.00am – 8.45am daily during the school term. A healthy and nutritious breakfast is supplied as part of the Program. Children participate in a variety of planned activities and experiences and then are signed out to attend School at 8.45am.
After School Care
The After School Care Program operates from 3.30pm – 6.00pm daily during school terms. A healthy afternoon snack is provided to children attending the Program. The After Care Program also provides an extensive program of creative and recreational experiences for the children.
End of Term Early Finish
End of Term Early finishes are catered for at the Before and After School Care Program. The Program commences at the end of the school day.
Enrolment
If you would like to enrol your child to the program, please ask at the office or to register your child, click the following link: Register Here